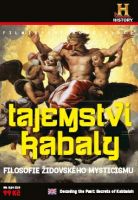 Decoding the Past: Secrets of Kabbalah - digipack
Dokument poskytuje základní informace o kabale, židovské mystice, jedné z nejtajemnějších mystických forem po staletí přitahující pozornost mnohých, kteří se snaží proniknout do přísně střežených tajemství a odhalit tak odpovědi na největší životní otázky. Studium starých textů, četba posvátných knih a tajemných rukopisů, techniky meditace, tradiční rituály a obřady, a především hluboká oddanost a vlastní čistota jsou cestou nabytí mocné duchovní síly. Ta může vyvolené dovést až k božskému prožitku, k porozumění božímu záměru, k pochopení boží moudrosti a smyslu lidského bytí.

videoukázka
---
czech title: Decoding the Past: Secrets of Kabbalah
produkce Filmexport: Ano
length: 49 min.
colour: barevný
year of release: 2006
studio: A&E Television Networks, LLC.
country of origin: USA
picture: 4:3 PAL, region 2
sound: Dolby Digital 2.0
language version: česká, anglická
medium type: DVD-5, digipack
EAN: 8595052207191
Join us, we have our own channel!

where you will find samples from archival Czech films, animated fairy tales and documentaries, which we have released on DVD. You can also access them from our website, just click on the following names - Movie Songs and Favorite Movie Scenes and Buzz. The samples are sorted here according to individual films.