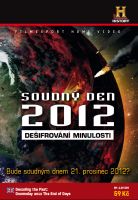 Decoding the Past: Doomsday 2012 The End of Days - DVD sleeve
Soudný den 2012 je dokumentární film, který zkoumá, proroctví věštců z celého světa. Zdá se, že všechna proroctví poukazují na rok 2012. Datum se objevuje znovu a znovu ve starobylém mayském kalendáři, ve středověké předpovědi čaroděje Merlina, v čínské I-ťing, ale i v nové technologii s názvem Web-Bot projekt, který prohledáváním internetu předvídá budoucnost, a všude se objevuje obávané datum: 2012. Kromě těchto odkazů se objevují i odkazy na starověké Egypťany, proroctví Matky Shiptonové, indiány kmene Hopi, indické Védy, Bibli a její část Zjevení Janovo či proroka Nostradama, kteří údajně ve svých vizích shodně očekávají v době kolem roku 2012 určitý druh světového přelomu nebo apokalypsu.

videoukázka
---
czech title: Decoding the Past: Doomsday 2012 The End of Days
produkce Filmexport: Ano
length: 45 min.
colour: barevný
year of release: 2007
studio: A&E Television Networks, LLC.
country of origin: USA
director: Jeff Schiro, Tim Evans
picture: 4:3 PAL, region 2
sound: Dolby Digital 2.0
language version: česká, anglická
medium type: DVD-5, papírová pošetka
Join us, we have our own channel!

where you will find samples from archival Czech films, animated fairy tales and documentaries, which we have released on DVD. You can also access them from our website, just click on the following names - Movie Songs and Favorite Movie Scenes and Buzz. The samples are sorted here according to individual films.