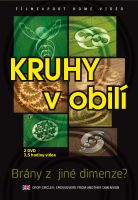 Crop Circles: Crossovers from Another Dimension - 2x DVD - digisleeve
Poodkryjte tajemství, jež obestírá záhadu největších a nejúžasnějších kruhů v obilí, které se kdy objevily. Tvůrci těchto paranormálních útvarů zůstávají nadále neznámí. Po mnoha letech usilovného zkoumání důkazy stále naznačují, že v pozadí tohoto fenoménu by mohly být nepozemské vlivy. Jedna věc je ovšem jistá: to, co v tomto neuvěřitelném dokumentu uvidíte, nelze pojmenovat jinak než zázrak. Dokument přináší nejen senzační záběry kruhů v obilí, ale i fascinující sérii strhujících rozhovorů s vědci, svědky i nejznámějšími a nejdůvěryhodnějšími autoritami na kruhy v obilí současnosti.

videoukázka
---
czech title: Crop Circles: Crossovers from Another Dimension
produkce Filmexport: Ano
length: 75 min. + 148 min.
colour: barevný
year of release: 2006
studio: UFO TV
country of origin: USA
director: Terje Toftenes
script: Terje Toftenes
director of photography: T. Toftenes, Per S. Wold-Hansen, T. Toftenes, R. Loken
music: Johann Sigurd Ruud a KPM/SEL archives
picture: 4:3 PAL, region 2
sound: Dolby Digital 2.0
language version: česká, anglická
medium type: 2x DVD-9, digipack
EAN: 8595052200727
---
bonusy
Disk 1: Rozhovory – Andreas Műller, Francine Blake
Disk 2: Rozhovory – Andy Thomas, Lucy Pringle, Michael Glickman , Palden Jenkins
Join us, we have our own channel!

where you will find samples from archival Czech films, animated fairy tales and documentaries, which we have released on DVD. You can also access them from our website, just click on the following names - Movie Songs and Favorite Movie Scenes and Buzz. The samples are sorted here according to individual films.