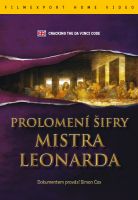 Cracking the Da Vinci Code - digipack
Vydáme se na neuvěřitelnou cestu za tajemstvími na pozadí slavného románu Dana Browna The Da Vinci Code. Dokument nás mistrně provede vším zmatkem a nepravdami, aby nakonec rozluštil Da Vinciho kód a odhalil pozoruhodnou pravdu o legendárním Svatém grálu.

videoukázka
---
czech title: Cracking the Da Vinci Code
produkce Filmexport: Ano
length: 88 min.
colour: barevný
year of release: 2004
studio: UFO Global Media LLC.
country of origin: USA
director: Geof Petch
picture: 4:3 PAL, region 2
sound: Dolby Digital 2.0
language version: česká, anglická
medium type: DVD-5, digipack
EAN: 8595052207825
Join us, we have our own channel!

where you will find samples from archival Czech films, animated fairy tales and documentaries, which we have released on DVD. You can also access them from our website, just click on the following names - Movie Songs and Favorite Movie Scenes and Buzz. The samples are sorted here according to individual films.