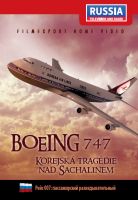 Boeing 747 - digipack
V noci 31. srpna 1983 sestřelily sovětské vzdušné síly jihokorejské civilní letadlo s 269 nevinnými oběťmi na palubě. Celý svět tehdy oplakával jejich smrt. Na místě dopadu letadla však sovětští vyšetřovatelé objevili nejmodernější špionážní vybavení společně s devětadvaceti těly příslušníků ozbrojených sil Spojených států amerických. Prozradíme vám, co všechno se skrývá za korejskou tragédií nad Sachalinem.

videoukázka
---
czech title: Boeing
produkce Filmexport: Ano
length: 44 min.
colour: barevný
year of release: 2011
studio: VGTRK
country of origin: Rusko
director: Denis Šulenov
script: Denis Šulenov
picture: 4:3 PAL, region 2
sound: Dolby Digital 2.0
language version: česká, ruská
medium type: DVD-5, digipack
EAN: 8595052208020
Join us, we have our own channel!

where you will find samples from archival Czech films, animated fairy tales and documentaries, which we have released on DVD. You can also access them from our website, just click on the following names - Movie Songs and Favorite Movie Scenes and Buzz. The samples are sorted here according to individual films.