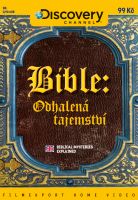 Biblical Mysteries Explained - digipack
Nové pokroky vědy odhalily překvapivé důkazy o tom, že Mojžíšův příběh a jeho neuvěřitelné zázraky mohly vycházet z historických skutečností. Věda může vysvětlit záhadu deseti morových ran. Co bylo příčinou zničení Sodomy a Gomory ohněm? A co prozradí ztracená evangelia Petrova, Jidášova nebo Marie Magdaleny? Pojďme pomocí vědy rozlušit tyto největší záhady Bible!
Kniha Exodus
Sodoma a Gomora
Ztracená evangelia

videoukázka
---
czech title: Biblical Mysteries Explained
produkce Filmexport: Ano
length: 45 min. + 45 min. + 44 min.
colour: barevný
year of release: 2008
studio: DISCOVERY COMMUNICATIONS, LLC.
country of origin: USA
director: Andy Papadopoulos
script: Andy Papadopoulos
picture: 16:9 PAL, region 2
sound: Dolby Digital 2.0
language version: česká, anglická
medium type: DVD-9, digipack
EAN: 8595052207023
Join us, we have our own channel!

where you will find samples from archival Czech films, animated fairy tales and documentaries, which we have released on DVD. You can also access them from our website, just click on the following names - Movie Songs and Favorite Movie Scenes and Buzz. The samples are sorted here according to individual films.