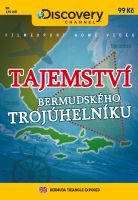 Bermuda Triangle Exposed - digipack
Jak mohlo 2 tisíce lodí a 75 letadel zmizet beze stopy? Šílené vlny, magnetické anomálie, obrovské víry a podivné ohnivé koule, to jsou jevy, které se označují za viníky záhadných zmizení. Odborníci pomocí posledních vědeckých objevů odhalují pravdu jedné z největších záhad na Zemi.

videoukázka
---
czech title: Bermuda Triangle Exposed
produkce Filmexport: Ano
length: 44 min.
colour: barevný
year of release: 2009
studio: DISCOVERY COMMUNICATIONS, LLC.
country of origin: USA
director: Robert Wise
picture: 16:9 PAL, region 2
sound: Dolby Digital 2.0
language version: česká, anglická
medium type: DVD-5, digipack
EAN: 8595052208877
Join us, we have our own channel!

where you will find samples from archival Czech films, animated fairy tales and documentaries, which we have released on DVD. You can also access them from our website, just click on the following names - Movie Songs and Favorite Movie Scenes and Buzz. The samples are sorted here according to individual films.