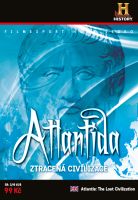 Atlantis: The Lost Civilization - digipack
Proč starobylá legenda o městě, jež se propadlo do mořských hlubin, upoutává představivost hledačů po mnoho generací? Je možné, že kdysi dávno Atlantida skutečně existovala? A pokud ano, kde? Atlantidu lidé hledali na ostrovech Bimini, Santorini, na Kanárských ostrovech a dokonce i v Tróji. Kdo vůbec Atlanťané byli? Podle badatelů Atlanťané vybudovali technologicky vyspělou civilizaci, kterou se dosud nikomu nepodařilo překonat. Mnozí lidé tvrdí, že našli místo, kde moře bájné město pohltilo za jedinou noc a den.
Pojďte s námi zkoumat archeologické, historické a kulturní záhady dávné minulosti.

videoukázka
---
czech title: Atlantis: The Lost Civilization
produkce Filmexport: Ano
length: 47 min.
colour: barevný
year of release: 1995
studio: A&E Television Networks, LLC.
country of origin: USA
picture: 4:3 PAL, region 2
sound: Dolby Digital 2.0
language version: česká, anglická
medium type: DVD-5, digipack
EAN: 8595052208624
Join us, we have our own channel!

where you will find samples from archival Czech films, animated fairy tales and documentaries, which we have released on DVD. You can also access them from our website, just click on the following names - Movie Songs and Favorite Movie Scenes and Buzz. The samples are sorted here according to individual films.