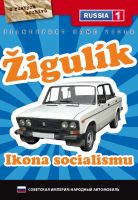 Zhiguli: A National Car - digipack
Ve 40. letech v SSSR znamenala koupě vozu totéž, jako bychom si dnes pořídili soukromý tryskáč. Výstavbě prvního závodu na výrobu automobilů sovětské provenience ovšem předcházela celá řada problémů a i Nikita Chruščov byl přesvědčen, že si sovětský člověk vystačí s hromadnou dopravou a traktory. V polovině 60. let tak bylo v Sovětském svazu vyráběno 200 000 vozů ročně, zatímco v USA 7,5 milionu. Kontrakt století byl podepsán 4. května 1966 a díky němu se modelem budoucího sovětského vozu stal Fiat 124, který byl evropskými odborníky považován za automobil roku 1964.

videoukázka
---
czech title: Zhiguli: A National Car
produkce Filmexport: Ano
length: 44 min.
colour: barevný
year of release: 2007
studio: TV Channel Russia
country of origin: Rusko
director: Jevgenij Matonin, Alexej Kondulukov
script: Michail Pavlov
picture: 4:3 PAL, region 2
sound: Dolby Digital 2.0
language version: česká, ruská
medium type: DVD-5, digipack
EAN: 8595052208969
Join us, we have our own channel!

where you will find samples from archival Czech films, animated fairy tales and documentaries, which we have released on DVD. You can also access them from our website, just click on the following names - Movie Songs and Favorite Movie Scenes and Buzz. The samples are sorted here according to individual films.