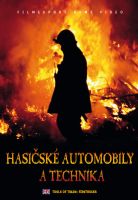 Tools of Trade: Firetrucks - DVD sleeve
Hašení požárů je nebezpečná a těžká práce. Bez pomoci techniky by se žhavé plameny daly jen velmi těžko zkrotit. Hasiči proto mají speciální výbavu a multifunkční hasicí vozy. Právě díky nim zvládají boj s tímto živlem i v extrémních situacích. Ukážeme vám, co vše ke své práci potřebují a jak jednotlivé pomůcky a stroje fungují.

videoukázka
---
czech title: Tools of Trade: Firetrucks
produkce Filmexport: Ano
length: 48 min.
colour: barevný
year of release: 2006
studio: Jupiter Entertainment for National Geographic Channel
country of origin: USA
picture: 16:9 PAL, region ALL
sound: Dolby Digital 2.0
language version: česká, anglická
medium type: DVD-9, papírová pošetka
Join us, we have our own channel!

where you will find samples from archival Czech films, animated fairy tales and documentaries, which we have released on DVD. You can also access them from our website, just click on the following names - Movie Songs and Favorite Movie Scenes and Buzz. The samples are sorted here according to individual films.