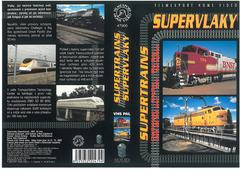 Supervlaky
Největší, stále provozu schopné, parní lokomotivy Challenger a Big Boy společnosti Union Pacific znamenaly technický převrat již před 50 lety. Pohled z kabiny supervlaku TGV při cestě napříč francouzským územím je fascinujícím zážitkem, zvláště pak, když tento vlak je schopen dosáhnout rychlosti přes 420 km/h. I německý Maglev jakoby naprosto ignoroval trať. Tiše klouže nad tratí na magnetickém poli a může dosáhnout rychlosti až 448 km/h.
V sídle Trasportation Technology Center se takříkajíc z první ruky podíváme na nejúžasnější supervlaky současnosti EMD SD 80 MAC. Toto počítačem ovládané monstrum disponuje výkonem 5500 koňských sil a může vést vlak o váze přesahující 180 tisíc tun.
---
czech title: Supertrains
produkce Filmexport: Ano
length: 52 min.
colour: barevný
year of release: 1997
studio: Discovery Communications, Inc
country of origin: USA
director: Rob Englehardt
language version: česká
medium type: BTC
Join us, we have our own channel!

where you will find samples from archival Czech films, animated fairy tales and documentaries, which we have released on DVD. You can also access them from our website, just click on the following names - Movie Songs and Favorite Movie Scenes and Buzz. The samples are sorted here according to individual films.