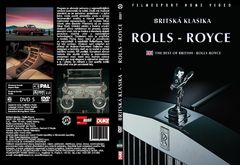 Rolls-Royce - Britská klasika
Program je věnován jednomu z nejprestižnějších výrobců automobilů na světě. Divák má možnost seznámit se se samotnou společností i s jejími lidmi, může pocítit atmosféru zrodu a vývoje fenomenální značky a hlavně poznat její mistrovské reprezentanty – od modelu Silver Ghost, přes klasické Phantomy až po model Silver Spirit. Unikátní záběry z továrny umožní divákovi přímo nahlédnout do procesu výroby slavných vozů, kdy se tradice a standardy stoleté produkce mistrně mísí s nejnovějšími technologiemi. Dokladem toho je projížďka v modelu Flying Spur, který je považován za nejrychlejší a nejsilnější Rolls-Royce, který byl kdy vyroben. Divákovi není odepřen ani přístup do Mulliner-Park-Ward Galleries mezi designery a techniky, kteří se na tvorbě a výrobě každého modelu RR podíleli. Komplexní shrnutí historie této skvělé značky je doprovázeno prezentací vozů, které jsou dodnes vysoce ceněny pro svoji eleganci a výjimečné vlastnosti, a to i přesto, že některé z nich spatřily světlo světa před více jak osmdesáti lety.
---
czech title: Best of British - Rolls-Royce
produkce Filmexport: Ano
length: 70 min.
colour: barevný
year of release: 1994
studio: DUKE Marketing Ltd.
country of origin: Velká Británie
director: Bruce Cox
script: Ian Norris
picture: 4:3 PAL, region ALL
sound: Dolby Digital 2.0
language version: česká, anglická
medium type: DVD-5, DVD box
EAN: 8595052295914
Join us, we have our own channel!

where you will find samples from archival Czech films, animated fairy tales and documentaries, which we have released on DVD. You can also access them from our website, just click on the following names - Movie Songs and Favorite Movie Scenes and Buzz. The samples are sorted here according to individual films.