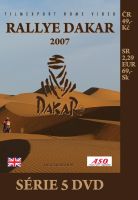 Rallye Dakar 2007 - DVD sleeve
Lisabon - město dobrodruhů a cestovatelů. Hostitel závodu Rallye Dakar v roce 2007. Už podruhé za sebou odstartují závodníci nejtěžšího závodu svého druhu z Portugalska. Dvě etapy v Evropě a další tři horskými cestami v Maroku. V Mauretánii závodníky čeká saharský písek, který vystřídá černá Afrika, Mali a nakonec tradičně Senegal. Šest zemí, kterými projede 15 etap o celkové délce více než osm tisíc kilometrů.

videoukázka
---
czech title: Rallye Dakar 2007
produkce Filmexport: Ano
length: 109 min.
colour: barevný
year of release: 2007
studio: AMAURY SPORT ORGANISATION
country of origin: Francie
picture: 4:3 PAL, region ALL
sound: Dolby Digital 2.0
language version: česká, anglická
medium type: DVD-5, papírová pošetka
Join us, we have our own channel!

where you will find samples from archival Czech films, animated fairy tales and documentaries, which we have released on DVD. You can also access them from our website, just click on the following names - Movie Songs and Favorite Movie Scenes and Buzz. The samples are sorted here according to individual films.