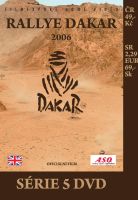 Rallye Dakar 2006 - DVD sleeve
Sestřih přináší nejlepší ukázky toho, co prožívali soutěžící při Dakaru 2006. Ti budou moci vyprávět nezapomenutelné příběhy, které zažili při své 16-ti denní jízdě Afrikou.
Vše začalo na místě dobrodružných příběhů, v domově mořeplavců a hrdinů, v Lisabonu v Portugalsku. Atmosféra při sčítání a zápisu byla do Nového roku naplněna obavami a očekáváním, jaké to všechno bude. Nikdo nevěděl, co ho zanedlouho čeká. Tento rok odstartuje 232 motorek, 174 automobilů a 69 kamiónů, to znamená neuvěřitelných 475 vozidel a 775 soutěžících.

videoukázka
---
czech title: Rallye Dakar 2006
produkce Filmexport: Ano
length: 75 min.
colour: barevný
year of release: 2006
studio: AMAURY SPORT ORGANISATION
country of origin: Francie
picture: 4:3 PAL, region ALL
sound: Dolby Digital 2.0
language version: česká, anglická
medium type: DVD-5, papírová pošetka
Join us, we have our own channel!

where you will find samples from archival Czech films, animated fairy tales and documentaries, which we have released on DVD. You can also access them from our website, just click on the following names - Movie Songs and Favorite Movie Scenes and Buzz. The samples are sorted here according to individual films.