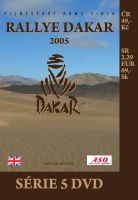 Rallye Dakar 2005 - DVD sleeve
Rallye Dakar 2005 odstartovala v Barceloně, ve Španělsku, v jednom z nejvíce kosmopolitních měst světa. Největší světový závod motorových vozidel bude trvat skoro tři týdny a nikdy předtím nebylo na startu tolik dobrodružství chtivých účastníků - celkem 232 motorek, 166 aut, 70 kamiónů a asi 230 servisních vozů. Cesta ještě náročnější než v roce 2004, dlouhá bezmála 9000 kilometrů, startuje v Evropě a dále vede přes Maroko, Mali a Mauretánii a končí samozřejmě v Senegalu.

videoukázka
---
czech title: Rallye Dakar 2005
produkce Filmexport: Ano
length: 77 min.
colour: barevný
year of release: 2005
studio: AMAURY SPORT ORGANISATION
country of origin: Francie
picture: 4:3 PAL, region ALL
sound: Dolby Digital 2.0
language version: česká, anglická
medium type: DVD-5, papírová pošetka
Join us, we have our own channel!

where you will find samples from archival Czech films, animated fairy tales and documentaries, which we have released on DVD. You can also access them from our website, just click on the following names - Movie Songs and Favorite Movie Scenes and Buzz. The samples are sorted here according to individual films.