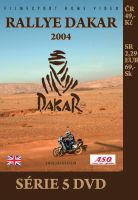 Rallye Dakar 2004 - DVD sleeve
Rok 2004 a Afrika vítají Dakar velkým vlhkem. Po pravdě řečeno množství vody bylo něco, na co jezdci a řidiči nebyli připraveni. Měsíc před tím postihly Maroko silné deště, které se zde nevyskytly již přes třicet let. Vyschlé řeky byly plné vody a závodníci se dostali do velkých problémů. Po třech těžkých dnech se závodníci dozvídají oficiální prohlášení o tom, že závod bude na 48 hodin přerušen kvůli teroristickým hrozbám. Ale každý den na Dakaru přináší další nečekané problémy …

videoukázka
---
czech title: Rallye Dakar 2004
produkce Filmexport: Ano
length: 68 min.
colour: barevný
year of release: 2004
studio: AMAURY SPORT ORGANISATION
country of origin: Francie
picture: 4:3 PAL, region ALL
sound: dolby digital 2.0
language version: česká, anglická
medium type: DVD-5, papírová pošetka
Join us, we have our own channel!

where you will find samples from archival Czech films, animated fairy tales and documentaries, which we have released on DVD. You can also access them from our website, just click on the following names - Movie Songs and Favorite Movie Scenes and Buzz. The samples are sorted here according to individual films.