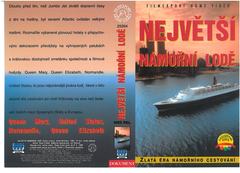 Největší námořní lodě
Dlouho předtím, než Jumbo Jet zkrátil dopravní časy z dní na hodiny, byl severní Atlantic ovládán velkými tratěmi. Rozmařile vybavené plovoucí holely s přepychovými dekoracemi převážely na vyhrazených palubách s královskou důstojností smetánku společnosti a filmové hvězdy. Queen Mary, Queen Elizabeth, Normandie, United States, to jsou nejznámější jména lodí, které v této slavné éře cestování po moři křižovaly na více než šedesáti tratích mezi Spojenými státy a Evropou.
---
czech title: Great Liners
produkce Filmexport: Ano
length: 56 min.
colour: barevný
year of release: 1992
studio: Castle Communications PLC
country of origin: Velká Británie
director: Dave Flitton
sound: 1 CZ 2 ME
language version: česká
medium type: BTC
Join us, we have our own channel!

where you will find samples from archival Czech films, animated fairy tales and documentaries, which we have released on DVD. You can also access them from our website, just click on the following names - Movie Songs and Favorite Movie Scenes and Buzz. The samples are sorted here according to individual films.