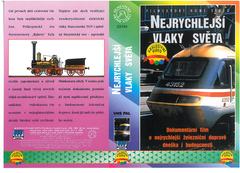 Nejrychlejší vlaky světa
Od prvních dnů cestování vlakem byla nejdůležitější rychlost. Průkopnická éra Stevensenovy "Rakety" byla rychle zapomenuta a závod s časem hnal vývoj nových vlaků nejsmlouvavě vpřed. Tato unikátní videokazeta vás seznámí s nejzajímavějšími detaily hledání vyšší rychlosti. Najdete zde dech vyrážející vysokorychlostní elektrické vlaky, francouzské TGV i splněný futuristický sen - japonské Shinkansen střely. V tomto jedinečném dokumentu poznáte již nyní naplňované představy o budoucnosti železniční dopravy, která již míří do příštího století.
---
czech title: The World's Fastest Trains
produkce Filmexport: Ano
length: 75
colour: barevný
year of release: 1993
studio: Castle Communications PLC
country of origin: USA
sound: 1 CZ 2 orig
language version: česká
medium type: DBTC
Join us, we have our own channel!

where you will find samples from archival Czech films, animated fairy tales and documentaries, which we have released on DVD. You can also access them from our website, just click on the following names - Movie Songs and Favorite Movie Scenes and Buzz. The samples are sorted here according to individual films.