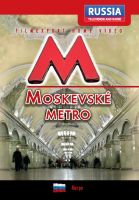 Moscow Metro - digipack
Plán na vybudování metra v Moskvě se zrodil na počátku 30. let minulého století. Jelikož tehdejší inženýři měli jen pramálo zkušeností s podobným typem výstavby, technická rozhodnutí přijímali velmi operativně, leckdy až v průběhu stavebních prací. Současná podoba moskevského metra se tak začala rýsovat spíše přímo na staveništi než na výkresech projektantů.
Výstavba si vyžádala nejen obrovské množství lidské práce, ale i speciální techniky a materiálu. Moskevské metro se právem pyšní velkolepým architektonickým ztvárněním a výzdobou. Výsledná podoba metra byla většinou dokončována na poslední chvíli před zahájením provozu a podíleli se na ní věhlasní ruští architekti. Moskevské metro bylo po dlouhá desetiletí největším stavebním projektem v hlavním městě a jeho výstavba nebyla přerušena ani v průběhu druhé světové války.

videoukázka
---
czech title: Moscow Metro
produkce Filmexport: Ano
length: 44 min.
colour: barevný
year of release: 2009
studio: VGTRK
country of origin: Rusko
director: Sergej Komarov
script: Elizabeta Listova
picture: 4:3 PAL, region 2
sound: Dolby Digital 2.0
language version: česká, ruská
medium type: DVD-5, digipack
EAN: 8595052206668
Join us, we have our own channel!

where you will find samples from archival Czech films, animated fairy tales and documentaries, which we have released on DVD. You can also access them from our website, just click on the following names - Movie Songs and Favorite Movie Scenes and Buzz. The samples are sorted here according to individual films.