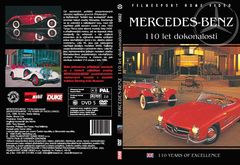 Mercedes-Benz - 110 let dokonalosti
Od samotných počátků prezentovaných věrnými replikami prvních tříkolových a čtyřkolových "kočárů bez koněspřeží" divák prochází historií značky Mercedes. Seznamuje se se vzácnými a velkolepými vozy, mezi něž například patřil závodní model z roku 1922 Targa Florio nebo slavné modely řady 540K s přeplňovanými motory, jež se doposud nikdy neobjevily na veřejnosti v tak ucelené prezentaci. Je to výjimečná ukázka vynikající práce návrhářských domů z tzv. zlatého období motorismu. Léta 50. jsou pak zastoupena například skvělým modelem 300SL Gullwing coupe dochovaným v původním stavu. Léta 60. jsou reprezentována jediným modelem značky Mercedes-Benz projektovaným návrhářským studiem Pininfarina a historie se pak završuje modelem V12 coupe z roku 1996.  
---
czech title: Mercedes-Benz - 110 Years of Excellence
produkce Filmexport: Ano
length: 52 min.
colour: barevný
year of release: 1996
studio: DUKE Marketing Ltd.
country of origin: Velká Británie
director: Bruce Cox
picture: 4:3 PAL, region ALL
sound: Dolby Digital 2.0
language version: česká, anglická
medium type: DVD-5, DVD box
EAN: 8595052295921
Join us, we have our own channel!

where you will find samples from archival Czech films, animated fairy tales and documentaries, which we have released on DVD. You can also access them from our website, just click on the following names - Movie Songs and Favorite Movie Scenes and Buzz. The samples are sorted here according to individual films.