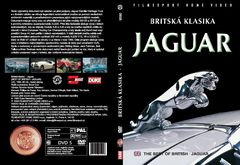 Jaguar - Britská klasika
Tento výjimečný dokument byl natočen za plné podpory Jaguar Daimler Heritage Trust a v širokém záběru se věnuje legendární automobilové značce za pomoci nevšedních archivních materiálů a prostřednictvím prezentace jejích nejvýznamnějších modelů.
Dokument mapuje vývoj vozu od předválečných let přes modely SS100 a XK120 až k prvnímu britskému superautomobilu XJ220. Přes léta šedesátá sleduje vývoj v letech sedmdesátých, kdy se objevily modely XJ6 a XJS a kdy se značka úspěšně vrátila do závodů v rámci European Touring Car Championship a kdy slavila svůj triumf mezi vozy prestižní Group 44, kam patřila i v letech osmdesátých. V další dekádě značka oslnila svět superautomobilem jedoucím rychlostí 200 km/h a modely XJ220 V12, V6 a XJ220 C, který ve třídě GT zvítězil na okruhu v Le Mans v roce 1993. Dále program sleduje vývoj vozu k britskému nejrychlejšímu sportovnímu modelu té doby pod označením XJR.
---
czech title: Best of British - Jaguar
produkce Filmexport: Ano
length: 68 min.
colour: barevný
year of release: 1995
studio: DUKE Marketing Limited
country of origin: Velká Británie
director: Bruce Cox
picture: 4:3 PAL, region ALL
sound: Dolby Digital 2.0
language version: česká, anglická
medium type: DVD-5, DVD box
EAN: 8595052295907
Join us, we have our own channel!

where you will find samples from archival Czech films, animated fairy tales and documentaries, which we have released on DVD. You can also access them from our website, just click on the following names - Movie Songs and Favorite Movie Scenes and Buzz. The samples are sorted here according to individual films.