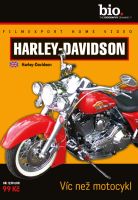 Harley-Davidson - digipack
První továrnu postavili na dohled od domova, na Juneau Avenue, kde společnost sídlí dodnes. Během 1. a 2. světové války dostal Harley Davidson velké zakázky na výrobu strojů pro vojenské účely. V roce 2003 Harley-Davidson oslavil 100. výročí. Harley Davidson je pojem. Je to legenda. Někdo mu říká "zázrak", pro jiného je to životní styl.

videoukázka
---
czech title: Harley-Davidson
produkce Filmexport: Ano
length: 45 min.
colour: barevný
year of release: 2005
studio: A&E Television Networks, LLC.
country of origin: USA
script: Mike Leiderman
picture: 4:3 PAL, region 2
sound: Dolby Digital 2.0
language version: česká, anglická
medium type: DVD-5, digipack
EAN: 8595052208679
Join us, we have our own channel!

where you will find samples from archival Czech films, animated fairy tales and documentaries, which we have released on DVD. You can also access them from our website, just click on the following names - Movie Songs and Favorite Movie Scenes and Buzz. The samples are sorted here according to individual films.