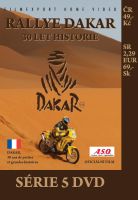 Dakar, 30 ans de petites et grandes histoires - DVD sleeve
Na druhý Svátek vánoční startují z pařížského náměstí Trocadéro závodníci, kteří se zapíší do historie nejtěžší dálkové rallye světa. Tito průkopníci mají jen nejasnou představu o tom, co to znamená 10 000 kilometrů napříč severní Afrikou. První etapa vede na jih do Marseille. Před odjezdem nastává pod Eiffelovou věží výjimečná chvíle, něco jako modlitba, ve které závodníci prosí o vítězství. Odpověď však budou znát až za 18 dní. Po tříkilometrovém prologu do Montlhery si to namířilo 182 vozidel k marseillskému nábřeží a pak lodí do Alžírska. První okamžiky velkého afrického dobrodružství začínají…

videoukázka
---
czech title: Dakar, 30 ans de petites et grandes histoires
produkce Filmexport: Ano
length: 100 min.
colour: barevný
year of release: 2007
studio: AMAURY SPORT ORGANISATION
country of origin: Francie
director: Jean-Philippe Martin, Christophe Briand
picture: 4:3 PAL, region ALL
sound: Dolby Digital 2.0
language version: česká, francouzská
medium type: DVD-5, papírová pošetka
Join us, we have our own channel!

where you will find samples from archival Czech films, animated fairy tales and documentaries, which we have released on DVD. You can also access them from our website, just click on the following names - Movie Songs and Favorite Movie Scenes and Buzz. The samples are sorted here according to individual films.