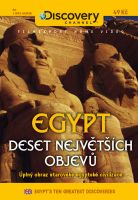 Egypt´s Ten Greatest Discoveries - DVD sleeve
Egypt je více než dvě stě let místem nejvýznamnějších objevů, které kdy spatřily světlo světa. Pomocí vědecké analýzy nás moderní archeologie vezme za hranice těchto nálezů a odhalí nám jejich skrytá tajemství. Správce egyptských památek Dr. Zahi Hawass vybral s týmem předních archeologů deset nejdůležitějších objevů, jež společně skýtají úplný obraz starověké egyptské civilizace.

videoukázka
---
czech title: Egypt´s Ten Greatest Discoveries
produkce Filmexport: Ano
length: 87 min.
colour: barevný
year of release: 2007
studio: DISCOVERY COMMUNICATIONS, LLC.
country of origin: USA
director: Ben Mole
picture: 16:9 PAL, region 2
sound: Dolby Digital 2.0
language version: česká, anglická
medium type: DVD-5, papírová pošetka
Join us, we have our own channel!

where you will find samples from archival Czech films, animated fairy tales and documentaries, which we have released on DVD. You can also access them from our website, just click on the following names - Movie Songs and Favorite Movie Scenes and Buzz. The samples are sorted here according to individual films.