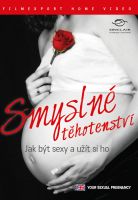 Your sexual pregnancy - digipack
Během těhotenství jsou ženy smyslnější. Mají větší prsa i boky a mnohým nechybí chuť na sex. Očekáváte-li potomka, nemusíte nutně abstinovat. Sex v těhotenství může být pro vás ještě více vzrušující než tomu bylo doposud. Ukážeme vám různé způsoby, nejlepší polohy, úhly a techniky pro maximální uspokojení obou partnerů. Zažijte nové pocity a objevte smyslné masáže i nové erotické pomůcky. Odborné rady vám poskytnou renomované psycholožky.

videoukázka
---
czech title: Your sexual pregnancy
produkce Filmexport: Ano
length: 52 min.
colour: barevný
year of release: 2009
studio: Sinclair Institute
country of origin: USA
director: Jeffrey Allen
script: K. Shuker
picture: 4:3 PAL, region 2
sound: Dolby Digital 2.0
language version: česká, anglická
medium type: DVD-5, digipack
EAN: 8595052207115
Join us, we have our own channel!

where you will find samples from archival Czech films, animated fairy tales and documentaries, which we have released on DVD. You can also access them from our website, just click on the following names - Movie Songs and Favorite Movie Scenes and Buzz. The samples are sorted here according to individual films.