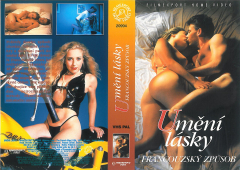 Umění lásky - francouzský způsob
Pohledy, doteky, způsob chování, milostné předehry a milování patří do umění lásky. To vše dovedla francouzská cesta ke svébytné dokonalosti. 48 minut velmi otevřeného návodu mapuje tyto často skryté oblasti. 
---
czech title: Making Love - The French Way
produkce Filmexport: Ano
length: 48 min.
colour: barevný
year of release: 1993
studio: Powersport Production
country of origin: USA
director: Frédéric Lampire
language version: česká
Join us, we have our own channel!

where you will find samples from archival Czech films, animated fairy tales and documentaries, which we have released on DVD. You can also access them from our website, just click on the following names - Movie Songs and Favorite Movie Scenes and Buzz. The samples are sorted here according to individual films.