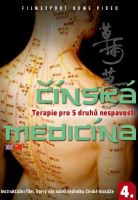 Therapies for 5 Types of Insomnia - digipack
Tradiční čínská medicína se v dnešní době těší veliké oblibě. Je to léčebný systém vytvořený ve starověké Číně na základě bohatých zkušeností. Rozvíjela se po tisíciletí a v současné době je předmětem moderních výzkumů. Její způsob diagnostiky je však proti moderní medicíně zcela odlišný. Diagnostika je velmi podrobná a zcela individuální. Nespavost proto pro čínské lékaře není jednou nemocí, neboť příčiny mohou být různé. Léčba je navrhována po důkladné prohlídce a vychází z teorií TČM o yinu a yangu a pěti orgánech. Při léčbě se užívá bylin, akupunktury, masáží tuina, dietetiky a zdravotního cvičení qi-kong a tai-ji. Nespavost může způsobovat nesprávná funkce jater, sleziny, srdce, žlučníku, žaludku apod. V tomto dokumentu se dozvíte jak léčit 5 druhů nespavosti.

videoukázka
---
czech title: Therapies for 5 Types of Insomnia
produkce Filmexport: Ano
length: 44 min.
colour: barevný
year of release: 2007
studio: Guangzhou Beauty Culture
country of origin: Čína
picture: 4:3 PAL, region ALL
sound: Dolby Digital 2.0
language version: česká, čínská
subtitles: čínské, původní anglické
medium type: DVD-5, digipack
EAN: 8595052206965
Join us, we have our own channel!

where you will find samples from archival Czech films, animated fairy tales and documentaries, which we have released on DVD. You can also access them from our website, just click on the following names - Movie Songs and Favorite Movie Scenes and Buzz. The samples are sorted here according to individual films.