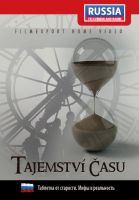 Secrets of Time, The - digipack
O ovládnutí času lidé snili odpradávna. Středověcí mágové uměli běh času urychlit, anebo naopak zpomalit. Šamani dokázali ochránit svůj kmen před nepřítelem tím, že zvrátili běh času. Léčitelé a kouzelníci znali tajemství, jak zastavit stárnutí.
Starobylé poznání o čase dosud bedlivě střeží tibetští mniši. V tibetských archivech jsou uloženy staré rukopisy, jež obsahují návody, jak ovládnout čas, jak ho přimět, aby nám sloužil a učinil nás šťastnými. Jaké výjimečné znalosti měli o čase naši předkové? Můžeme dnes jejich poznatky využít? Odpověď na tuto otázku může poskytnout moderní věda.

videoukázka
---
czech title: The Secrets of Time
produkce Filmexport: Ano
length: 44 min.
colour: barevný
year of release: 2008
studio: VGTRK
country of origin: Rusko
director: Tamara Bočarova
script: Tamara Bočarova
picture: 4:3 PAL, region 2
sound: Dolby Digital 2.0
language version: česká, ruská
medium type: DVD-5, digipack
EAN: 8595052206651
Join us, we have our own channel!

where you will find samples from archival Czech films, animated fairy tales and documentaries, which we have released on DVD. You can also access them from our website, just click on the following names - Movie Songs and Favorite Movie Scenes and Buzz. The samples are sorted here according to individual films.