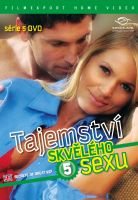 Secrets of Great Sex 5 - digipack
Muži a ženy jsou odlišní, pokud jde o erotogenní zóny. Proto bychom se neměli bát o sexu otevřeně mluvit. Když partnerovi prozradíme, co se nám líbí a co nás rozpaluje, rozhodně uděláme krok správným směrem. Snažte se využívat všech pěti smyslů, dosáhnete tak ještě většího potěšení z milování. Dívejte se a učte se. Buďte kreativní, zkuste nové pohyby, nové polohy, nebojte se při milování experimentovat! Objevte nové erotogenní zóny, vymaňte se z rutiny, naučte se nové techniky a rozšiřte si svůj repertoár. Uspokojte svoje fantazie a zažijte nejúžasnější sex svého života!

videoukázka
---
czech title: Secrets of Great Sex
produkce Filmexport: Ano
length: 59 min.
colour: barevný
year of release: 2010
studio: Sinclair Institute
country of origin: USA
director: Geoffry Allen
picture: 4:3 PAL, region 2
sound: Dolby Digital 2.0
language version: česká, anglická
medium type: DVD-5, digipack
EAN: 8595052207108
Join us, we have our own channel!

where you will find samples from archival Czech films, animated fairy tales and documentaries, which we have released on DVD. You can also access them from our website, just click on the following names - Movie Songs and Favorite Movie Scenes and Buzz. The samples are sorted here according to individual films.