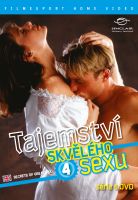 Secrets of Great Sex 4 - digipack
Přejete si okořenit své milování? Zdá se vám sex s partnerem stále stejný? Naučíme vás, jak potěšit svou drahou polovičku něčím novým! Díky radám odborníků váš intimní život nezevšední. Podívejte se a naučte se nové polohy, které jsou vhodné pro lepší stimulaci. Buďte hraví a nebojte se používat erotické pomůcky, které mohou zvýšit vaši rozkoš. Ukážeme vám, že možností, jak si můžete zpestřit milování, je skutečně mnoho. Průvodcem se vám stane doktorka Lori Buckleyová, která vám poskytne užitečné rady. Vydejte se za poznáním a zažijte nejlepší sex svého života!

videoukázka
---
czech title: Secrets of Great Sex
produkce Filmexport: Ano
length: 55 min.
colour: barevný
year of release: 2010
studio: Sinclair Institute
country of origin: USA
director: Geoffry Allen
picture: 4:3 PAL, region 2
sound: Dolby Digital 2.0
language version: česká, anglická
medium type: DVD-5, digipack
EAN: 8595052206712
Join us, we have our own channel!

where you will find samples from archival Czech films, animated fairy tales and documentaries, which we have released on DVD. You can also access them from our website, just click on the following names - Movie Songs and Favorite Movie Scenes and Buzz. The samples are sorted here according to individual films.