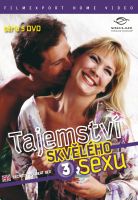 Secrets of Great Sex 3 - digipack
Existuje skupina lidí, kterým není potřeba v sexu příliš radit. Jsme to my, narození v rámci babyboomu, počatí v době sexuální revoluce. Víme co a jak. Ale občas zjistíme, že to, co dosud fungovalo, najednou nestačí. Upadáme do milostné rutiny, kdy je všechno předvídatelné a nudné. Faktem je, že i my chceme sexuální revoluci. Naši vlastní sexuální revoluci. Lepší sex můžete mít už zítra. Je nejvyšší čas, abyste se s partnerem naučili nové, jednoduché triky pro jedinečný orgasmus a vyzkoušeli nové sexuální techniky. Lepší sex máte na dosah, pokud budete chtít.

videoukázka
---
czech title: Secrets of Great Sex
produkce Filmexport: Ano
length: 52 min.
colour: barevný
year of release: 2010
studio: Sinclair Institute
country of origin: USA
director: Geoffry Allen
picture: 4:3 PAL, region 2
sound: Dolby Digital 2.0
language version: česká, anglická
medium type: DVD-5, digipack
EAN: 8595052206705
Join us, we have our own channel!

where you will find samples from archival Czech films, animated fairy tales and documentaries, which we have released on DVD. You can also access them from our website, just click on the following names - Movie Songs and Favorite Movie Scenes and Buzz. The samples are sorted here according to individual films.