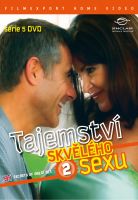 Secrets of Great Sex 2 - digipack
Zažijte nejúžasnější sex svého života už dnes! Objevte tajemství romantiky, svádění, intimity a sexuálního potěšení ve čtyřiceti, padesáti i více letech. Snažíte se okořenit svůj sexuální život? Naučíme vás jednoduché kroky, díky kterým dosáhnete při milostných hrátkách vyšší úrovně. Objevte smyslnou masáž, nové polohy, vzrušující erotické pomůcky, bod G a jedinečné orální techniky. Pozvedněte své milování na novou úroveň, nebojte se svému partnerovi otevřeně říct, po čem toužíte, a nebojte se experimentovat. S věkem neztrácíme ani svou sexuální přitažlivost ani vášeň. Touha, smích i láska nám můžou přinést dlouhověkost a zlepšit kvalitu našeho života.

videoukázka
---
czech title: Secrets of Great Sex
produkce Filmexport: Ano
length: 58 min.
colour: barevný
year of release: 2010
studio: Sinclair Institute
country of origin: USA
director: Geoffry Allen
picture: 4:3 PAL, region 2
sound: Dolby Digital 2.0
language version: česká, anglická
medium type: DVD-5, digipack
EAN: 8595052206699
Join us, we have our own channel!

where you will find samples from archival Czech films, animated fairy tales and documentaries, which we have released on DVD. You can also access them from our website, just click on the following names - Movie Songs and Favorite Movie Scenes and Buzz. The samples are sorted here according to individual films.