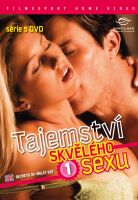 Secrets of Great Sex 1 - digipack
Orgasmus je jedním nejintenzivnějších a nejpříjemnějšchí pocitů, které můžete sdílet se svým partnerem. Naučte se, jak potěšit svého milence novým způsobem. Sdílejte s ním hlubší intimitu a opravdové potěšení. Na sedmi dvojicích vám ukážeme sílu intenzivního orgasmu a delikátnost orální rozkoše, kterou můžete prožívat i vy. Respektovaná klinická psycholožka a pedagožka, Dr. Lori Buckleyová vám poradí, jak v sobě probudíte vášeň a vzrušení a navážete nové, intimnější spojení s partnerem. Užijte si svět sexuálních rozkoší, které leží na špičce vašeho jazyka! Ukážeme vám techniky a dovednosti, se kterými ohromíte partnera a stanete se dokonalým milencem. Všechny vaše otázky budou zodpovězeny a vy si budete moci plně užívat všech slastí, které milování přináší! Zapojte svádění a předehru do vašeho milování!

videoukázka
---
czech title: Secrets of Great Sex
produkce Filmexport: Ano
length: 72 min.
colour: barevný
year of release: 2010
studio: Sinclair Institute
country of origin: USA
director: Geoffry Allen
picture: 4:3 PAL, region 2
sound: Dolby Digital 2.0
language version: česká, anglická
medium type: DVD-5, digipack
EAN: 8595052206682
Join us, we have our own channel!

where you will find samples from archival Czech films, animated fairy tales and documentaries, which we have released on DVD. You can also access them from our website, just click on the following names - Movie Songs and Favorite Movie Scenes and Buzz. The samples are sorted here according to individual films.