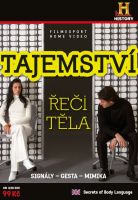 Secrets of Body Language - digipack
Spolu s tvůrci dokumentu nahlédněme do oblasti mezilidské komunikace. Poznejme, co nám mohou prozradit neverbální projevy, držení těla, posazení hlasu, gestikulace. Prostřednictvím vysoce vizuální a velmi zábavné formy poodhalme tajemství spojená se skrytou řečí našich těl, která se z více jak 90% podílí na naší vzájemné komunikaci. A na příkladu řady politiků, celebrit a veřejně známých osob i jedinců mimo zákon se staňme svědky okamžiků, kdy i jemný a sotva patrný projev či pohyb dokáže zafungovat v náš prospěch, ale nečekaně i proti našim zájmům vynášejíc tak na světlo skrývanou pravdu o nás samotných.

videoukázka
---
czech title: Secrets of Body Language
produkce Filmexport: Ano
length: 91 min.
colour: barevný
year of release: 2008
studio: A&E Television Networks, LLC.
country of origin: USA
picture: 4:3 PAL, region 2
sound: Dolby Digital 2.0
language version: česká, anglická
medium type: DVD-5, digipack
EAN: 8595052207238
Join us, we have our own channel!

where you will find samples from archival Czech films, animated fairy tales and documentaries, which we have released on DVD. You can also access them from our website, just click on the following names - Movie Songs and Favorite Movie Scenes and Buzz. The samples are sorted here according to individual films.