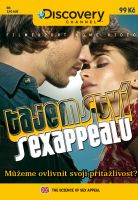 Science of Sex Appeal, The - digipack
Věda o sexappealu se zabývá jedním z našich nejniternějších procesů. Tento pořad prozkoumává každý aspekt sexuální přitažlivosti z hlediska evolučního i funkčního. Jaké jsou tajné složky přitažlivosti? Jaké tělo je sexy? Můžeme ovlivnit svůj sexappeal? Nejčastějšími prostředky sexuální přitažlivosti a svádění jsou: zrak, sluch a čich. Za použití vědeckých metod pořad vysvětluje mechaniky přitažlivosti a definuje prchavou kouzelnou jiskru.

videoukázka
---
czech title: The Science of Sex Appeal
produkce Filmexport: Ano
length: 88 min.
colour: barevný
year of release: 2008
studio: DISCOVERY COMMUNICATIONS, LLC.
country of origin: USA
picture: 16:9 PAL, region 2
sound: Dolby Digital 2.0
language version: česká, anglická
medium type: DVD-5, digipack
EAN: 8595052207511
Join us, we have our own channel!

where you will find samples from archival Czech films, animated fairy tales and documentaries, which we have released on DVD. You can also access them from our website, just click on the following names - Movie Songs and Favorite Movie Scenes and Buzz. The samples are sorted here according to individual films.