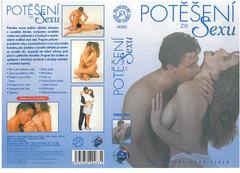 Potěšení ze sexu
Program poskytuje praktické rady a otevřeně hovoří o sexu od prvotního kontaktu, přes předehru a sexuální stimulaci po samotný sexuální akt, neopomíjí ani oblast ochrany proti početí a pohlavním chorobám. Program byl vyroben ve spolupráci s lékařským poradcem a obsahuje následující tematické kapitoly:
Muž a jeho pohlavní znaky
Žena a její pohlavní znaky
Předehra a její rozličné formy
Erotogenní zóny muže
Erotogenní zóny ženy
Orgasmus
Druhy poloh
Masturbace
Orální sex
Erotická funkce prádla, svádění partnera
Antikoncepce
Pohlavně přenosné nemoci
---
czech title: More Pleasure of Sex
produkce Filmexport: Ano
length: 48 min.
colour: barevný
year of release: 1999
studio: Status Vc Visual Communication
country of origin: Velká Británie
director: John Mearman
sound: 1 CZ mix 2 mix 3 mix 4 mix
language version: česká
medium type: BTC
Join us, we have our own channel!

where you will find samples from archival Czech films, animated fairy tales and documentaries, which we have released on DVD. You can also access them from our website, just click on the following names - Movie Songs and Favorite Movie Scenes and Buzz. The samples are sorted here according to individual films.