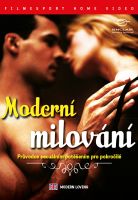 Modern Loving - digipack
Dokument Moderní milování, který připravila Sarah Hedleyová, je praktický průvodce pro zlepšení vašeho sexuálního života. Sarah se s vámi podělí o svou desetiletou zkušenost ve Velké Británii, kde se prosadila jako sexuální pedagožka v několika nejzásadnějších světových publikacích o životním stylu, mezi které patří jak časopis Kosmopolitan, tak i Maxim. Užijte si naplno intimní okamžiky se svým partnerem. Přiblížíme vám různé techniky dráždění, které vašeho partnera či partnerku zaručeně rozpálí. Dozvíte se všechno, co jste chtěli vědět o sexu, ale báli jste se zeptat!

videoukázka
---
czech title: Modern Loving
produkce Filmexport: Ano
length: 52 min.
colour: barevný
year of release: 2006
studio: Modern Loving Ltd.
country of origin: USA
director: Ben Schaffer
script: Sarah Hedley
music: Joshua Cody
picture: 4:3 PAL, region 2
sound: Dolby Digital 2.0
language version: česká, anglická
medium type: DVD-5, digipack
EAN: 8595052208709
Join us, we have our own channel!

where you will find samples from archival Czech films, animated fairy tales and documentaries, which we have released on DVD. You can also access them from our website, just click on the following names - Movie Songs and Favorite Movie Scenes and Buzz. The samples are sorted here according to individual films.