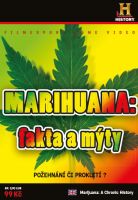 Marijuana: A Chronic History - digipack
Dokument předkládá mnohé otázky a nabízí i řadu odpovědí a především nezastírá fakt, že marihuana patří k fenoménům naší doby. Pro jedny je bezpečnou drogou, pro jiné otevřenou bránou k užívání silnějších substancí. Pro jedny je lákavým zpestřením společenského života, pro jiné východiskem z bolesti, jedinečným prostředkem úlevy v nejrůznějších nemocech. Jaké tedy zaujmout stanovisko? Je mnoho států, které vynakládají enormní částky na její potírání, zatímco jiné legalizují její užívání pro lékařské účely.

videoukázka
---
czech title: Marijuana: A Chronic History
produkce Filmexport: Ano
length: 85 min.
colour: barevný
year of release: 2010
studio: A&E Television Networks, LLC.
country of origin: USA
picture: 4:3 PAL, region 2
sound: Dolby Digital 2.0
language version: česká, anglická
medium type: DVD-5, digipack
EAN: 8595052207221
Join us, we have our own channel!

where you will find samples from archival Czech films, animated fairy tales and documentaries, which we have released on DVD. You can also access them from our website, just click on the following names - Movie Songs and Favorite Movie Scenes and Buzz. The samples are sorted here according to individual films.