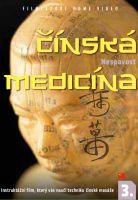 Insomnia - digipack
Nespavost neboli insomnie je porucha spánku, při níž jedinec nemůže usnout nebo se ze spánku často probouzí. Příznaky nespavosti jsou tělesná únava, závratě, apatie, nervozita, ospalost, neschopnost koncentrace nebo zhoršení paměti. Prevence a léčba nespavosti pomocí masáže je bezpečná a efektivní cesta, jak dosáhnout nápravy. V pořadu vám ukážeme několik masážních technik a seznámíme vás s body, které je potřeba znát.

videoukázka
---
czech title: Insomnia
produkce Filmexport: Ano
length: 57 min.
colour: barevný
year of release: 2007
studio: Guangzhou Beauty Culture
country of origin: Čína
picture: 4:3 PAL, region ALL
sound: Dolby Digital 2.0
language version: česká, čínská
subtitles: čínské
medium type: DVD-5, digipack
EAN: 8595052206941
Join us, we have our own channel!

where you will find samples from archival Czech films, animated fairy tales and documentaries, which we have released on DVD. You can also access them from our website, just click on the following names - Movie Songs and Favorite Movie Scenes and Buzz. The samples are sorted here according to individual films.