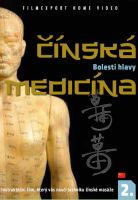 Headache - digipack
Hlava je centrem tepen a žil. Jakékoli změny myšlení a fyziologie mohou způsobit bolesti hlavy. První pomocí je masáž. Tradiční čínská medicína zná techniky, které pomáhají odstraňovat různé bolesti a jejich příčiny. Odborný čínský lékař vám ukáže základní masážní techniky vhodné jak pro profesionálního maséra, tak i pro obyčejného člověka. Naučíte se masírovat a ovládat akupresurní body lidského těla, ale také se dozvíte zajímavá fakta o léčbě, prevenci a technice rukou.

videoukázka
---
czech title: Headache
produkce Filmexport: Ano
length: 50 min.
colour: barevný
year of release: 2007
studio: Guangzhou Beauty Culture
country of origin: Čína
picture: 4:3 PAL, region ALL
sound: Dolby Digital 2.0
language version: česká, čínská
subtitles: čínské
medium type: DVD-5, digipack
EAN: 8595052206927
Join us, we have our own channel!

where you will find samples from archival Czech films, animated fairy tales and documentaries, which we have released on DVD. You can also access them from our website, just click on the following names - Movie Songs and Favorite Movie Scenes and Buzz. The samples are sorted here according to individual films.