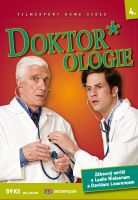 Doctor*ology 4 - DVD sleeve
10. Pneumologie – Z plných plic
Je jasné, že pneumolog léčí astma, ale poruchy spánku? Robert se s bláznivým strýčkem vydává na exkurzi do spánkové laboratoře – to bude zase pozdvižení.

11. Anesteziologie – Necítím ani Ň
Anesteziologové vás nejen uspí před operací, ale poradí si i s celou řadou bolestí. Když se Robertův potřeštěný strýček ukáže jako pěkně bolestivá osina v jeho pozadí, rozhodne se vyhledat pomoc u odborníků.

12. Urologie a gynekologie – On a ona
Podíváme se pěkně zdola na jinovou a jangovou stránku věci. Zatímco se potrhlý strýček snaží svému synovci pomoci vyřešit problém s jeho "výkonností".

13. Traumatologie – Není zranění jako zranění
Na oddělení urgentního příjmu hraje roli každá vteřina. Strýček Roberta seznámí s "Andulou", aby ho s její pomocí zasvětil do tajů traumatologie, a nechtěně se mu přitom podaří vyvolat nečekané krizové okamžiky.

videoukázka
---
czech title: Doctor*ology 10-13
produkce Filmexport: Ano
length: 4 x 23 min.
colour: barevný
year of release: 2006
studio: Galafilm Productions (III) Inc.
country of origin: Velká Británie
director: Tally Abecassis, Adam Weissman, Michael Kennedy
script: David Acer, Lienne Sawatsky, Daniel Williams
picture: 4:3 PAL, region ALL
sound: Dolby Digital 2.0
language version: česká, anglická
medium type: DVD-5, papírová pošetka
Join us, we have our own channel!

where you will find samples from archival Czech films, animated fairy tales and documentaries, which we have released on DVD. You can also access them from our website, just click on the following names - Movie Songs and Favorite Movie Scenes and Buzz. The samples are sorted here according to individual films.