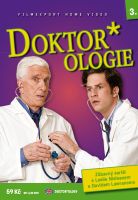 Doctor*ology 3 - DVD sleeve
7. Otolaryngologie – Z plna hrdla!
Vaše uši, nos i hrdlo propojuje množství kanálů, které se všechny časem opotřebují. Podle strýčka jsou ty Robertovy úplně nesmyslné!

8. Hepatologie – Je libo jatýrka?
Vaše játra tvrdě pracují a jako jediné jsou schopné se zregenerovat. Strýček chce Robertovi ukázat skutečnou transplantaci jater, pokud se jim ovšem podaří ztracený orgán najít...

9. Imunologie – Vnitřní bezpečnost
Strýček společně se svým synovcem zkoumá zvláštní svět alergií, infekčních chorob i starých vojenských historek, zatímco se Robert rozhoduje, zda se nechá naočkovat proti chřipce.

videoukázka
---
czech title: Doctor*ology 7-9
produkce Filmexport: Ano
length: 3 x 23 min.
colour: barevný
year of release: 2006
studio: Galafilm Productions (III) Inc.
country of origin: Velká Británie
director: Tally Abecassis, Adam Weissman, Michael Kennedy
script: David Acer, Lienne Sawatsky, Daniel Williams
picture: 4:3 PAL, region ALL
sound: Dolby Digital 2.0
language version: česká, anglická
medium type: DVD-5, papírová pošetka
Join us, we have our own channel!

where you will find samples from archival Czech films, animated fairy tales and documentaries, which we have released on DVD. You can also access them from our website, just click on the following names - Movie Songs and Favorite Movie Scenes and Buzz. The samples are sorted here according to individual films.