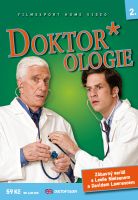 Doctor*ology 2 - DVD sleeve
4. Kardiologie – Srdce všeho
V této epizodě se podíváme na to, jak funguje naše srdce. Když bláznivý strýček provádí Roberta po kardiologii, nemůže to skončit jinak než pořádnou katastrofou.

5. Neurologie – Hranice neznáma
Sice víme, že existují nejmodernější zobrazovací metody, jak ale poznáme rozdíl mezi PET a CAT vyšetřením? Strýček se to snaží rychle zjistit, aby mohl nahradit přístroj, který se mu podařilo rozbít,
a Robert se mezitím snaží odlákat pozornost neurologů.

6. Hematologie – Pohonná látka těla
Krev je živoucí tekutinou, ale víte vůbec, jakou máte krevní skupinu? Potřeštěný strýček drží ruku Roberta, který se snaží překonat svůj strach z jehel.

videoukázka
---
czech title: Doctor*ology 4-6
produkce Filmexport: Ano
length: 3 x 23 min.
colour: barevný
year of release: 2006
studio: Galafilm Productions (III) Inc.
country of origin: Velká Británie
director: Tally Abecassis, Adam Weissman, Michael Kennedy
script: David Acer, Lienne Sawatsky, Daniel Williams
picture: 4:3 PAL, region ALL
sound: Dolby Digital 2.0
language version: česká, anglická
medium type: DVD-5, papírová pošetka
Join us, we have our own channel!

where you will find samples from archival Czech films, animated fairy tales and documentaries, which we have released on DVD. You can also access them from our website, just click on the following names - Movie Songs and Favorite Movie Scenes and Buzz. The samples are sorted here according to individual films.