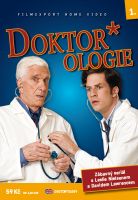 Doctor*ology 1 - DVD sleeve
1. Gastroenterologie – Fantastická výprava
Je čas nahlédnout do našich útrob i na některé choulostivější symptomy. Potrhlý strýček se snaží Robertovi pomoci při irigografii a ztřeštěná jízda začíná.

2. Dermatologie – Až pod kůži
Kromě běžných pupínků a bradavic jsou dermatologové na první pohled schopni diagnostikovat více než 500 různých kožních onemocnění. Praštěný strýček objedná Roberta na biopsii znaménka. Mohlo by se jednat o rakovinu?

3. Oftalmologie – Pryč z očí
Seznamte se s opraváři našeho zraku a získejte úplně nový pohled na dokonalé vidění. Strýček i Robert si nechají otestovat zrak a dokonce se pokusí operovat.

videoukázka
---
czech title: Doctor*ology 1-3
produkce Filmexport: Ano
length: 3 x 23 min.
colour: barevný
year of release: 2006
studio: Galafilm Productions (III) Inc.
country of origin: Velká Británie
director: Tally Abecassis, Adam Weissman, Michael Kennedy
script: David Acer, Lienne Sawatsky, Daniel Williams
picture: 4:3 PAL, region ALL
sound: Dolby Digital 2.0
language version: česká, anglická
medium type: DVD-5, papírová pošetka
Join us, we have our own channel!

where you will find samples from archival Czech films, animated fairy tales and documentaries, which we have released on DVD. You can also access them from our website, just click on the following names - Movie Songs and Favorite Movie Scenes and Buzz. The samples are sorted here according to individual films.