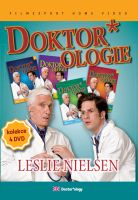 Doctor*ology - 1 - 4 - DVD sleeves
Jednotlivými epizodami, které jsou pojaty jako obrazový deník, nás provází Robert, jehož ztvárnil herec David Lawrence a jeho ztřeštěný strýček, kterého hraje oblíbený komik Leslie Nielsen. Každá epizoda se zaměřuje na určitý lékařský obor – od dermatologie přes kardiologii až po urgentní medicínu. Diváci se tak zábavnou formou dozvědí, jakým způsobem jim v poslední době věda pomáhá.
DVD 1: Gastroenterologie – Fantastická výprava/Dermatologie – Až pod kůži/Oftalmologie – Pryč z očí
DVD 2: Kardiologie – Srdce všeho/Neurologie – Hranice neznáma/Hematologie – Pohonná látka těla
DVD 3: Otolaryngologie – Z plna hrdla!/Hepatologie – Je libo jatýrka?/Imunologie – Vnitřní bezpečnost
DVD 4: Pneumologie – Z plných plic/Anesteziologie – Necítím ani Ň/Urologie a gynekologie – On a ona/ Traumatologie – Není zranění jako zranění
---
czech title: Doctor*ology
produkce Filmexport: Ano
length: 299 min.
colour: barevný
year of release: 2006
studio: Galafilm Productions (III) Inc.
country of origin: Velká Británie
director: Tally Abecassis, Adam Weissman, Michael Kennedy
script: David Acer, Lienne Sawatsky, Daniel Williams
starring: Leslie Nielsen, David Lawrence
picture: 4:3 PAL, region ALL
sound: Dolby Digital 2.0
language version: česká, anglická
medium type: 4 x DVD-5, papírová pošetka
EAN: 8595052270249
Join us, we have our own channel!

where you will find samples from archival Czech films, animated fairy tales and documentaries, which we have released on DVD. You can also access them from our website, just click on the following names - Movie Songs and Favorite Movie Scenes and Buzz. The samples are sorted here according to individual films.