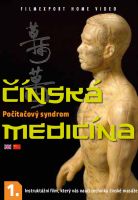 Computer Syndrome - digipack
Počítačový syndrom znají hlavně lidé pracující v kancelářích. Bolesti zad, zápěstí, krční páteře, ramen, očí a unavená mysl – to všechno jsou symptomy každodenní práce s počítačem. Na vině je špatné držení těla během pracovního procesu. Lidé také málo dbají na pravidelné protahování a procvičování. První, co pro své tělo můžeme udělat, je dopřát mu masáž. Nejenže odstraňuje bolest, ale působí také preventivně. Čínská masáž je součástí tradiční čínské medicíny. Má jedinečný a blahodárný účinek na lidské tělo. Masáž zlepšuje krevní oběh a podporuje správnou funkci metabolismu. Navíc odstraňuje únavu, posiluje tělo a udržuje ho v dobré kondici. Pozitivně také působí proti stárnutí a prodlužuje život. Film vás zavede do tajů čínské masáže. Ukáže vám různé techniky a naučí vás, jak si sami můžete pomoci od bolesti.

videoukázka
---
czech title: Computer Syndrome
produkce Filmexport: Ano
length: 54 min.
colour: barevný
year of release: 2007
studio: Guangzhou Beauty Culture
country of origin: Čína
picture: 4:3 PAL, region ALL
sound: Dolby Digital 2.0
language version: česká, čínská
subtitles: čínské, původní anglické
medium type: DVD-5, digipack
EAN: 8595052206903
Join us, we have our own channel!

where you will find samples from archival Czech films, animated fairy tales and documentaries, which we have released on DVD. You can also access them from our website, just click on the following names - Movie Songs and Favorite Movie Scenes and Buzz. The samples are sorted here according to individual films.