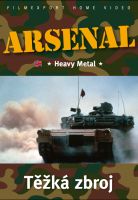 ARSENAL II - Heavy Metal - DVD sleeve
Druhá epizoda je zaměřena na vývoj bitevních tanků od nejrannějších počátků k nejnovějším modelům, jako je britský Challenger, francouzský Le Clerc, německý Leopard a americký Abrams. Vývoj stále modernějších tanků sebou přináší i prudký vývoj protitankové munice a rozvoj obranné tankové technologie. V dnešní době vysoké techniky s přesně naváděnými střelami, evokuje tank představu minulosti, ovšem pancéřované tanky současnosti skrývají balistické computery, laserové zaměřovače a rafinovanou elektroniku. Bez takto vybavených tanků není možné uspět na dnešním bojišti.

videoukázka
---
czech title: Arsenal - Heavy Metal
produkce Filmexport: Ano
length: 52 min.
colour: barevný
year of release: 1996
studio: VIDEO ORDNANCE, Inc.
country of origin: USA
script: Steve Zaloga
picture: 4:3 PAL, region ALL
sound: Dolby Digital 2.0
language version: česká, anglická
medium type: DVD-5, papírová pošetka
Join us, we have our own channel!

where you will find samples from archival Czech films, animated fairy tales and documentaries, which we have released on DVD. You can also access them from our website, just click on the following names - Movie Songs and Favorite Movie Scenes and Buzz. The samples are sorted here according to individual films.