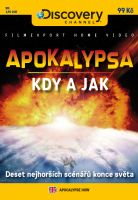 Apocalypse How - digipack
Mohla by erupce ničivého supervulkánu v Yellowstonském národním parku přinést zkázu celé planetě? Proč mayský kalendář končí dnem 21. prosince 2012? Očekává se invaze mimozemšťanů, jejímž cílem je vyhubit lidstvo a kolonizovat Zemi? Prolétne asteroid Apophis skutečně nebezpečně blízko kolem Země v roce 2029? Jsme svědky klimatických změn, které se během následujících desetiletí stanou kritickými. Vyřešíme včas hrozbu globálního oteplování? Země a veškerý život na ní čelí nevyhnutelnému zániku, otázkou zůstává, z jakého směru a kdy se čtyři jezdci apokalypsy vynoří na obzoru. Kdy a jak přijde zkáza - z vesmíru anebo z naší vlastní modré planety?

videoukázka
---
czech title: Apocalypse How
produkce Filmexport: Ano
length: 88 min.
colour: barevný
year of release: 2008
studio: DISCOVERY COMMUNICATIONS, LLC.
country of origin: USA
picture: 16:9 PAL, region 2
sound: Dolby Digital 2.0
language version: česká, anglická
medium type: DVD-5, digipack
EAN: 8595052206316
Join us, we have our own channel!

where you will find samples from archival Czech films, animated fairy tales and documentaries, which we have released on DVD. You can also access them from our website, just click on the following names - Movie Songs and Favorite Movie Scenes and Buzz. The samples are sorted here according to individual films.