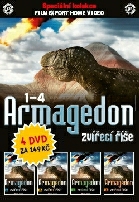 Animal Armagedon - 4x DVD - DVD sleeves
Tento seriál nabízí nevídaný pohled na Zemi v dávných dobách. Každý díl odkrývá fascinující příběh obohacený poutavými filmovými obrazy a přináší strhující rekonstrukci událostí od počátku vzniku Země. Zachycuje hromadné vyhynutí dinosaurů i dalších živočišných druhů, jež kdysi dávno obývaly naši planetu. Tyto dokumenty odpočítávají čas, který zbývá do katastrofy a kladou ústřední a nejzásadnější otázku: Kdo přežije a kdo zahyne?
Armagedon zvířecí říše
Armagedon zvířecí říše 1 (Paprsky smrti, Peklo na zemi)
Armagedon zvířecí říše 2 (Velké vymírání, Udušení)
Armagedon zvířecí říše 3 (Soudný den, Panika v oblacích)
Armagedon zvířecí říše 4 (Oheň a led, Kdo bude na řadě příště)
---
czech title: Animal Armagedon 1-4
produkce Filmexport: Ano
length: 384 min.
colour: barevný
year of release: 2009
studio: Parthenon Entertainment Ltd.
country of origin: Velká Británie
director: Jason McKinley
script: Bryce Zabel
picture: 16:9 PAL, region ALL
sound: Dolby Digital 2.0
language version: česká, anglická
medium type: 4x DVD-5, papírová pošetka
EAN: 8595052270379
Join us, we have our own channel!

where you will find samples from archival Czech films, animated fairy tales and documentaries, which we have released on DVD. You can also access them from our website, just click on the following names - Movie Songs and Favorite Movie Scenes and Buzz. The samples are sorted here according to individual films.