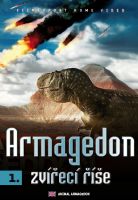 Animal Armagedon 1 - DVD sleeve
Paprsky smrti - Před 450 miliony lety smrtící výron gama paprsků spustil první masové vymírání v dějinách naší planety. Po rozmetání ozonové vrstvy byla Země vystavena nemilosrdnému ultrafialovému slunečnímu záření.
Peklo na Zemi - Před 377 miliony lety pohltila Zemi sopečná apokalypsa, jejímž původcem byl plášťový velehřib a jež vyústila v hromadné vymírání nevídaného rozsahu.
| | |
| --- | --- |
| | |
| videoukázka | videoukázka |
---
czech title: Animal Armagedon
produkce Filmexport: Ano
length: 48 min. + 48 min.
colour: barevný
year of release: 2009
studio: Parthenon Entertainment Ltd.
country of origin: Velká Británie
director: Jason McKinley
script: Bryce Zabel
picture: 16:9 PAL, region ALL
sound: Dolby Digital 2.0
language version: česká, anglická
medium type: DVD-5, papírová pošetka
Join us, we have our own channel!

where you will find samples from archival Czech films, animated fairy tales and documentaries, which we have released on DVD. You can also access them from our website, just click on the following names - Movie Songs and Favorite Movie Scenes and Buzz. The samples are sorted here according to individual films.